Linda Kristiansen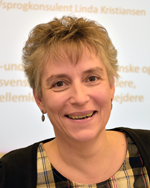 Linda Kristiansen is a teacher and lecturer in Danish and Swedish for AIS Sprog on both sides of the Øresund.
Linda was born in Denmark and has lived in Sweden since 1992. She has a Masters in Scandinavian Languages and Linguistics from Lund University and is an editor and quality controller in Danish and Swedish for ordbogen.com.
Linda has been a guest lecturer at Lund University and is affiliated as a censor in Swedish with the language faculty at Copenhagen Business School (CBS).
Linda has also been a presenter on Danish Radio's 'Øresund Chat' and 'Øresund Direct'.
"Do you know the difference between gånger and gångar ; and maskar, maskor and masker? It can be a great advantage to know the meaning of the Swedish words both when speaking with Swedes, and certainly also in written contact with, for example, Swedish authorities."
Selected publications:
Linda Kristiansen and Margit Randén: Danska på tvärs – a humourous guide to understanding Danish.
Linguistic consultant at Politiken's 'Øresundsbog'.